Looking to add a burst of vibrant color to your garden this season? Look no further than the mesmerizing Dahlia Pinnata! With its stunning array of shapes, sizes, and hues, this showstopper flower is sure to captivate and delight. Known for its intricate petals and eye-catching blooms, the Dahlia Pinnata has long been a favorite among garden enthusiasts and florists alike. But creating a picture-perfect display with these beauties requires a touch of know-how. In this guide, we'll take you through everything you need to know about cultivating and showcasing Dahlia Pinnata in your garden. From selecting the right varieties to mastering planting techniques and providing optimal care, you'll be equipped with all the tools to create a breathtaking display that will leave your neighbors in awe. So let's dive in and unlock the secrets to making your garden a true masterpiece with Dahlia Pinnata!
The history and characteristics of Dahlia Pinnata
The Dahlia Pinnata, native to Mexico, has a rich history dating back to the 16th century. Named after the Swedish botanist Anders Dahl, this flower has evolved over the years to become one of the most popular and sought-after blooms in the gardening world.
Dahlia Pinnata is known for its intricate petals and mesmerizing blooms. With a wide range of varieties available, you can choose from single-flowered, semi-double, or fully double blooms. The flower heads can range in size from a few inches to over a foot in diameter, making them a truly remarkable addition to any garden.
Benefits of growing Dahlia Pinnata in your garden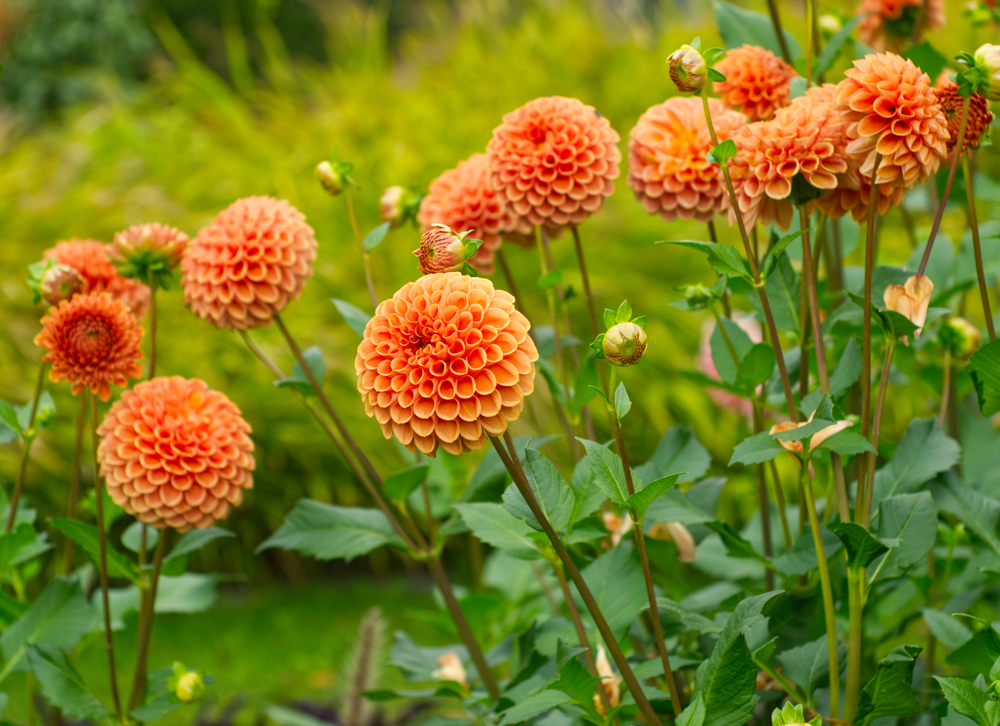 There are numerous benefits to growing Dahlia Pinnata in your garden. Not only do these flowers add a pop of color and beauty, but they also attract pollinators like bees and butterflies, which are essential for a healthy garden ecosystem.
Furthermore, Dahlia Pinnata is a versatile flower that can be used in various ways. Whether you want to create stunning floral arrangements, decorate your home, or simply enjoy the beauty of these blooms in your garden, Dahlia Pinnata offers endless possibilities.
Choosing the right location for your Dahlia Pinnata display
When it comes to choosing the right location for your Dahlia Pinnata display, there are a few key factors to consider. First and foremost, Dahlia Pinnata thrives in full sun, so make sure to select a spot in your garden that receives at least 6-8 hours of direct sunlight per day.
Additionally, Dahlia Pinnata prefers well-draining soil, so avoid areas that are prone to waterlogging. It's also important to consider the height of the plants, as some varieties can grow quite tall and may require staking for support.
Preparing the soil for planting Dahlia Pinnata
Before planting Dahlia , it's crucial to prepare the soil properly to ensure the best possible growing conditions. Start by clearing the area of any weeds or debris and loosen the soil using a garden fork or tiller.
Next, amend the soil with organic matter such as compost or well-rotted manure to improve its fertility and drainage. This will provide the Dahlia tubers with the necessary nutrients they need to thrive.
Selecting and planting Dahlia Pinnata tubers
Selecting the right Dahlia tubers is essential for a successful display. When choosing tubers, look for firm and healthy ones without any signs of rot or damage. It's also a good idea to select tubers that have multiple "eyes" or growing points, as these will produce more stems and blooms.
Planting Dahlia Pinnata tubers should be done after the danger of frost has passed and the soil has warmed up. Dig a hole that is slightly larger than the tuber and place it in the hole with the growing points facing up. Cover the tuber with soil, leaving about an inch of space between the soil surface and the top of the tuber.
Caring for Dahlia Pinnata plants – watering, fertilizing, and pruning
Proper care is essential for the health and vitality of Dahlia Pinnata plants. Regular watering is crucial, especially during dry spells, as Dahlia Pinnata has high water requirements. Water deeply, ensuring that the soil is evenly moist but not waterlogged.
Fertilizing Dahlia Pinnata plants is also important to promote healthy growth and abundant blooms. Use a balanced fertilizer with a higher potassium content to encourage flowering. Apply the fertilizer according to the package instructions, taking care not to over-fertilize, as this can lead to excessive foliage growth at the expense of flowers.
Pruning Dahlia Pinnata plants is necessary to maintain their shape and encourage bushier growth. Pinch off the tips of the plants when they reach about 12-18 inches in height to promote branching. Additionally, remove any dead or diseased foliage to prevent the spread of pests and diseases.
Dealing with common pests and diseases of Dahlia Pinnata
Like any garden plant, Dahlia Pinnata is susceptible to certain pests and diseases. Aphids, slugs, and snails are common pests that can damage the foliage and blooms. Regularly inspect your plants for signs of infestation and take appropriate measures such as using insecticidal soaps or natural predators to control these pests.
Dahlia Pinnata is also prone to diseases such as powdery mildew and botrytis blight. To prevent these diseases, ensure proper air circulation around the plants by spacing them adequately. Avoid overhead watering, as moisture on the foliage can promote fungal growth. If necessary, treat affected plants with fungicides according to the instructions provided.
Creating a picture-perfect display with Dahlia Pinnata – color combinations and companion plants
One of the most exciting aspects of growing Dahlia Pinnata is the opportunity to create a picture-perfect display with a stunning color palette. When choosing color combinations, consider the overall theme or mood you want to achieve in your garden.
For a vibrant and bold display, pair contrasting colors such as deep red with bright yellow or purple with orange. If you prefer a more harmonious and serene look, opt for analogous color schemes like various shades of pink or purple. Experiment with different combinations to find the perfect balance for your garden.
Companion plants can also enhance the beauty of Dahlia Pinnata displays. Choose plants that complement the colors and form of the Dahlia Pinnata blooms. Consider planting ornamental grasses, salvias, or zinnias as they provide a beautiful backdrop and contrast to the boldness of the Dahlia Pinnata flowers.
Dahlia Pinnata in different garden styles – formal, cottage, and modern
Dahlia Pinnata is a versatile flower that can be incorporated into various garden styles. In formal gardens, use Dahlia Pinnata to create structured and symmetrical displays. Plant them in straight lines or geometric patterns to achieve a formal and elegant look.
For a more relaxed and romantic feel, Dahlia Pinnata fits perfectly in cottage gardens. Mix them with other cottage-style plants like roses, foxgloves, and hollyhocks to create a charming and whimsical display.
In modern gardens, Dahlia Pinnata can add a bold and dramatic touch. Use them as focal points or in mass plantings to create a contemporary and eye-catching display. Pair them with architectural plants and clean lines for a sleek and modern aesthetic.
Dahlia Pinnata in containers and hanging baskets
If you have limited garden space or want to add a burst of color to your patio or balcony, Dahlia Pinnata is perfect for container gardening. Choose compact varieties that are suitable for containers and plant them in well-draining potting soil.
Make sure to select containers with drainage holes to prevent waterlogging. Place the containers in a sunny spot and water regularly to keep the soil evenly moist. Container-grown Dahlia Pinnata can be easily moved around to create different displays and arrangements.
For a cascading display, Dahlia Pinnata can also be grown in hanging baskets. Choose trailing varieties and plant them in a well-draining hanging basket filled with a mixture of potting soil and perlite. Hang the baskets in a sunny location and water regularly to maintain optimal growing conditions.
Dahlia Pinnata as cut flowers – tips for harvesting and arranging
Dahlia Pinnata's stunning blooms make them an excellent choice for cut flower arrangements. Harvest the flowers when they are fully open but before they start to fade. Cut the stems at an angle and immediately place them in a bucket of water to prevent wilting.
To extend the vase life of Dahlia Pinnata blooms, remove any leaves that will be submerged in water and recut the stems every few days. Change the water regularly and add floral preservatives to keep the flowers fresh for longer.
When arranging Dahlia Pinnata in a vase, consider the height, color, and form of the blooms. Combine different Dahlia Pinnata varieties with complementary flowers and foliage to create a visually stunning arrangement. Experiment with different combinations to find your unique style.
Dahlia Pinnata preservation and storage
If you want to preserve Dahlia Pinnata blooms for future use or simply enjoy them beyond their growing season, there are several methods you can use. One popular method is air-drying, where you hang the flowers upside down in a dry and dark place until they are completely dry.
Another method is pressing the Dahlia Pinnata blooms between heavy books or using a flower press. This method preserves the flowers' flat shape and allows you to use them for various crafts and projects.
To store Dahlia Pinnata tubers over winter, carefully dig them up after the first frost has killed the foliage. Clean off any soil and let them dry for a few days. Store the tubers in a cool, dry, and frost-free location, such as a basement or garage, in a box filled with peat moss or vermiculite.
After putting in all the hard work to create a picture-perfect Dahlia Pinnata display, why not share it with the world? Social media platforms like Instagram and Pinterest are excellent places to showcase your garden and connect with fellow gardening enthusiasts.
Take high-quality photos of your Dahlia Pinnata blooms from different angles and in different lighting conditions. Experiment with different compositions and use natural light whenever possible to capture the true beauty of the flowers. Don't forget to include relevant hashtags to increase the visibility of your posts.
Engage with other gardeners by commenting on their posts, joining gardening groups, or participating in gardening challenges. Sharing your knowledge and experiences can inspire others and foster a sense of community among fellow Dahlia Pinnata enthusiasts.
ALSO READ:
Top 10 Ferns Trees You Should Consider Adding to Your Garden
Cherry Blossom Festival: Exploring the Enchanting Blooming Beauty
Chrysanthemums: The Perfect Fall Flower for Your Garden and Home Decor
How to Transform Your Garden with Lavender Trees: Tips and Tricks for a Serene Oasis
Conclusion
With its mesmerizing blooms and stunning array of colors, Dahlia Pinnata is truly the ultimate showstopper in any garden. By following the tips and techniques outlined in this guide, you'll be well-equipped to create a picture-perfect display that will leave your neighbors in awe.
From selecting the right varieties to mastering planting techniques and providing optimal care, cultivating Dahlia Pinnata is a rewarding and enjoyable experience. Whether you choose to grow them in your garden, containers, or use them as cut flowers, Dahlia Pinnata is sure to bring joy and beauty to your life.
So, let your creativity flourish and unlock the secrets to making your garden a true masterpiece with Dahlia Pinnata!