Welcome to the vibrant and captivating world of dahlias! If you're an admirer of nature's beauty and desire to elevate your garden with stunning blooms, you've come to the right place. Dahlias are not your ordinary flowers; they are a masterpiece of colors, shapes, and sizes that can transform any space into a botanical wonderland. In this ultimate guide, we'll take you on a mesmerizing journey through dahlias, from understanding their origins and varieties to mastering the art of growing and caring for these captivating flowers. Prepare to be enchanted by their elegance and learn to create breathtaking floral arrangements that will leave your neighbors green with envy. Whether you're a seasoned gardener or a beginner, this guide equips you with the knowledge and tips you need to cultivate dahlias and revel in their splendor all season long. So, let's dive in and discover the secrets to cultivating these extraordinary blooms!
Different Types of Dahlias
Dahlias, a diverse and enchanting group of flowers, come in various types that showcase an array of shapes, sizes, and colors. Here are some of the different types of dahlias:
Decorative Dahlias:
These are the most common type, known for their large, fully double flowers with broad petals. They come in a wide range of colors and are often used for cut flower arrangements.
Cactus Dahlias: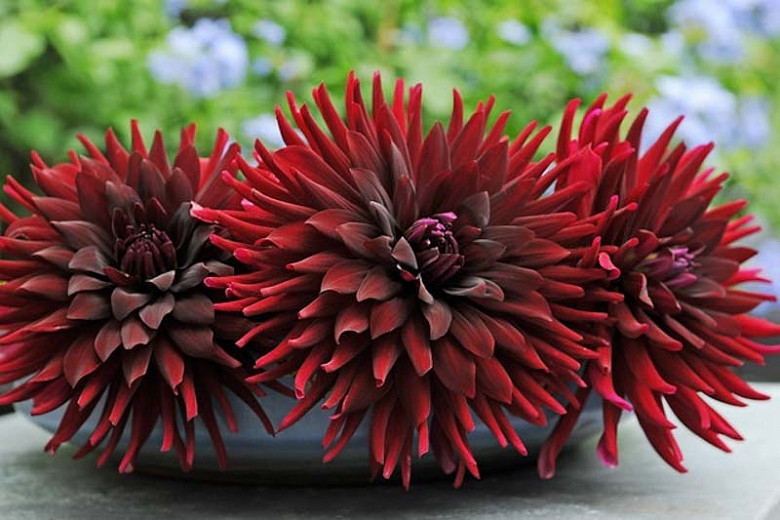 Characterized by their spiky, rolled, and pointed petals, cactus dahlias have a unique and eye-catching appearance. They come in both small and large sizes and create a dramatic visual impact in the garden.
Anemone Dahlias:
Featuring a cluster of flat petals surrounding a central disc, anemone dahlias resemble the form of anemone flowers. They add a delicate charm to any garden setting.
Ball Dahlias:
True to their name, ball dahlias have perfectly round, compact blooms with tightly packed petals. They are available in various sizes and hues, creating a delightful pom-pom effect.
Pompon Dahlias: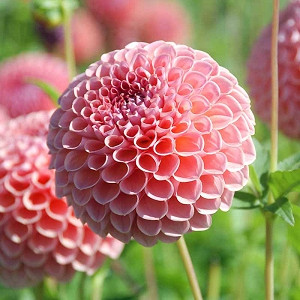 Similar to ball dahlias, pompon dahlias have small, globe-shaped flowers, but their petals are usually curved and slightly pointed, giving them a charming and dainty appearance.
Waterlily Dahlias: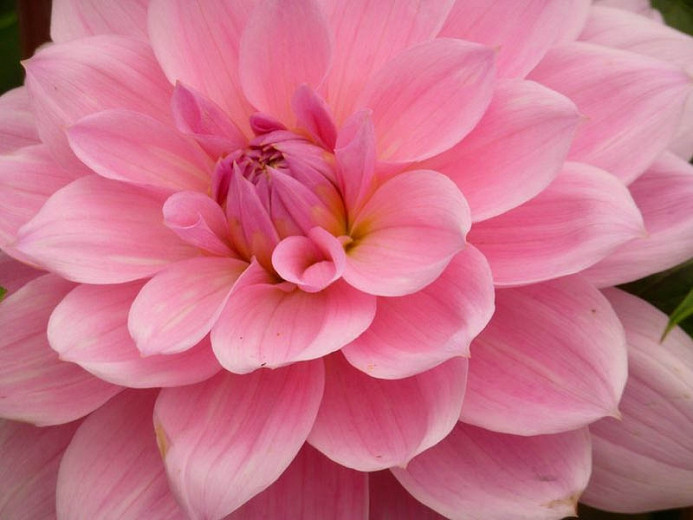 These dahlias have unique, fully double blooms with broad, flat petals that resemble the shape of water lilies. They often have a soft and dreamy quality.
Collarette Dahlias: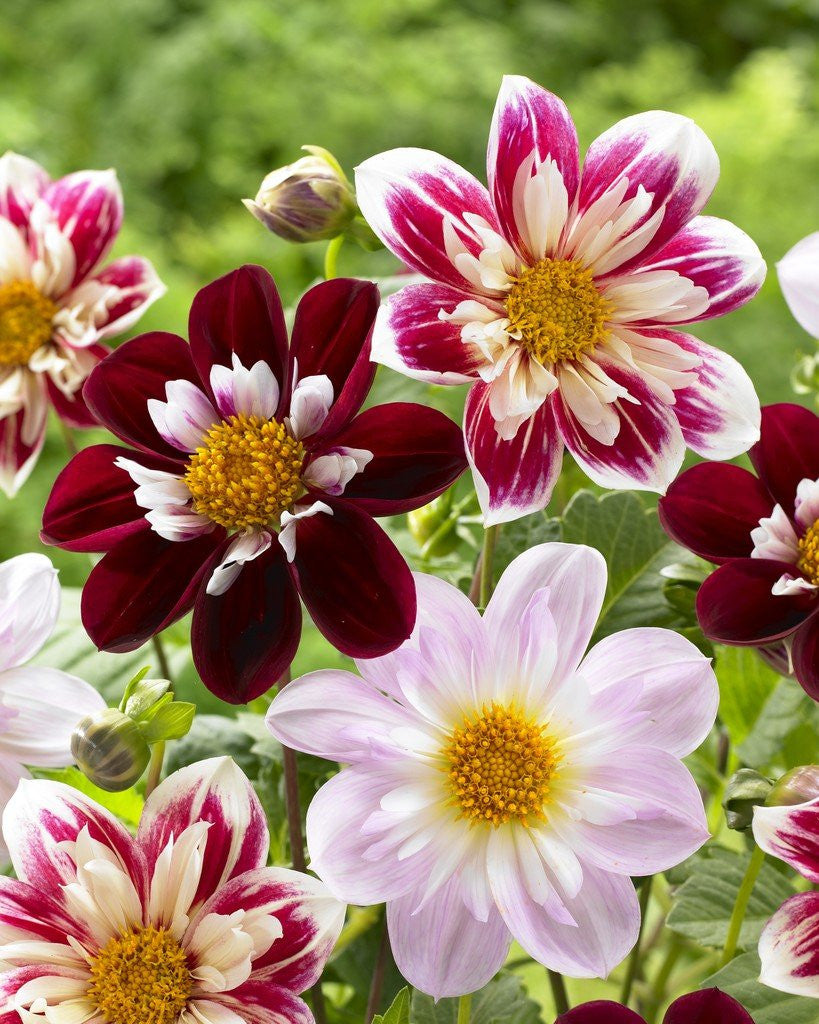 Distinguished by their central ring of flat petals surrounded by a collar of shorter, contrasting petals, collarette dahlias add a touch of elegance and sophistication to the garden.
Orchid Dahlias:
Resembling orchids, these dahlias have long, narrow petals that are often twisted or curled, giving them an exotic and graceful look.
Single Dahlias:
Unlike most dahlias, single dahlias have just one row of petals surrounding the center, showcasing their simple beauty and providing an excellent food source for pollinators.
Peony Dahlias: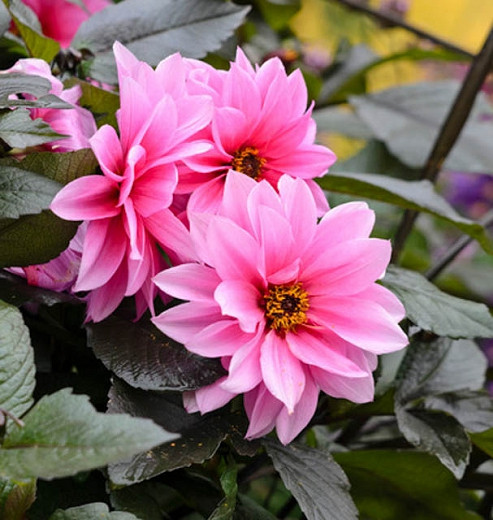 Named for their resemblance to peonies, these dahlias have large, fully double flowers with layered and densely packed petals, exuding a romantic and lush appeal.
Benefits of Growing Dahlias
In addition to their stunning beauty, dahlias offer a range of benefits for gardeners. One of the most significant benefits is their long blooming season, which extends from summer to fall, providing a burst of color during the later months of the year when many other flowers have faded. This extended blooming period makes dahlias a valuable addition to any garden, ensuring that you can enjoy their vibrant hues for an extended period.
Dahlias are also relatively low maintenance, making them suitable for both experienced gardeners and beginners. While they do require some care and attention, dahlias are generally easy to grow and can withstand various weather conditions. With proper care and maintenance, they can thrive and produce an abundance of blooms year after year.
Another benefit of growing dahlias is their versatility. They can be used in various ways, from creating stunning floral arrangements to adding pops of color to your landscape. Dahlias also attract pollinators such as bees and butterflies, making them an excellent choice for those looking to support local wildlife. With their numerous benefits and stunning beauty, it's no wonder that dahlias have become a favorite among gardeners worldwide.
Choosing the Right Location for Dahlias
Choosing the right location for your dahlias is crucial for their success. Dahlias thrive in full sun, so it's essential to select a spot in your garden that receives at least six hours of direct sunlight per day. This will ensure that your dahlias receive the necessary light to produce abundant blooms. While dahlias can tolerate some shade, they may not flower as profusely if they don't receive enough sunlight.
In addition to sunlight, dahlias also require well-drained soil. They do not tolerate soggy or waterlogged conditions, as this can lead to root rot. Before planting your dahlias, prepare the soil by incorporating organic matter such as compost or well-rotted manure. This will improve the soil's structure and drainage, creating an ideal environment for your dahlias to thrive.
When selecting a location for your dahlias, consider the height and size of the plants. Some varieties can grow quite tall and may require staking to prevent them from toppling over. Make sure to leave sufficient space between each plant to allow for proper air circulation and growth.
Soil Preparation and Planting Dahlias
Proper soil preparation is essential for the successful growth of dahlias. Start by loosening the soil to a depth of about 12 inches, removing any weeds or debris. This will allow the roots of your dahlias to penetrate the soil easily and access nutrients.
Next, amend the soil with organic matter to improve its fertility and structure. Incorporate well-rotted compost or aged manure into the soil, mixing it thoroughly. This will provide your dahlias with the necessary nutrients for healthy growth and abundant blooms.
Once the soil is prepared, it's time to plant your dahlias. Dig a hole that is slightly larger than the dahlia tuber and place the tuber in the hole, ensuring that the growing point (known as the eye) is facing upward. Cover the tuber with soil, leaving about an inch of the neck exposed. This will prevent water from pooling around the tuber and reduce the risk of rot.
Water the newly planted dahlias thoroughly to settle the soil and encourage root establishment. After planting, it's important to keep the soil evenly moist but not waterlogged. Dahlias require regular watering, especially during dry periods. Use a soaker hose or drip irrigation system to deliver water directly to the roots, avoiding wetting the foliage, which can lead to fungal diseases.
Watering and Fertilizing Dahlias
Proper watering is crucial for the health and vitality of your dahlias. While they require regular watering, it's essential to strike a balance and avoid overwatering. Dahlias prefer moist, but not waterlogged, soil. Overly wet conditions can lead to root rot and other fungal diseases. On the other hand, underwatering can result in stunted growth and reduced flower production.
To ensure that your dahlias receive the right amount of water, monitor the soil moisture level regularly. Stick your finger about an inch into the soil; if it feels dry, it's time to water. During hot and dry periods, dahlias may require daily watering to prevent them from drying out. Water deeply, ensuring that the soil is thoroughly moistened.
In addition to regular watering, dahlias also benefit from regular feeding. Fertilizing your dahlias will promote healthy growth and abundant blooms. Before planting, incorporate a slow-release granular fertilizer into the soil. This will provide a steady supply of nutrients throughout the growing season.
Once your dahlias are established, you can also apply a balanced liquid fertilizer every two to three weeks. This will provide an extra boost of nutrients during the peak growing season. Avoid over-fertilizing, as this can lead to excessive foliage growth at the expense of flower production.
Pruning and Staking Dahlias
Pruning and staking are essential for keeping your dahlias neat, tidy, and upright. Dahlias have a bushy growth habit and can become top-heavy as they produce large blooms. Without proper support, they may flop over, damaging the stems and reducing flower production.
Staking your dahlias will provide the necessary support and prevent them from falling over. Install stakes around each dahlia plant, ensuring that they are at least 12 inches taller than the expected height of the plant. As the dahlias grow, gently tie the stems to the stakes using soft garden twine, creating a loose figure-eight pattern. This will allow the stems to move naturally while providing the necessary support.
In addition to staking, regular pruning will help maintain the health and shape of your dahlias. Remove any dead or diseased foliage and flowers regularly to prevent the spread of diseases. Pinch out the tips of the main stems when the plants reach about 12 inches in height. This will encourage the development of side shoots, resulting in bushier plants and more blooms.
Common Pests and Diseases of Dahlias
Despite their resilience, dahlias can be susceptible to various pests and diseases. Being aware of the common issues that can affect your dahlias will help you take prompt action and prevent them from causing significant damage.
One of the most common pests that attack dahlias is aphids. These tiny insects feed on the sap of the plant, causing the leaves to curl and distort. To control aphids, regularly inspect your dahlias and remove any infested leaves or stems. You can also use insecticidal soap or a strong jet of water to dislodge the aphids.
Another pest to watch out for is the dahlia caterpillar. These green caterpillars feed on the leaves of dahlias, leaving behind skeletonized foliage. Handpicking the caterpillars and applying organic insecticides can help control the infestation.
Dahlias are also susceptible to various fungal diseases, such as powdery mildew and botrytis blight. Powdery mildew appears as a white powdery coating on the leaves, while botrytis blight causes grayish-brown spots and wilting. To prevent fungal diseases, ensure that your dahlias have good air circulation by spacing them properly and removing any overcrowded foliage. Applying a fungicide can also help control the spread of fungal diseases.
Tips for Extending the Blooming Season of Dahlias
While dahlias naturally bloom from summer to fall, there are several tips and techniques you can employ to extend their blooming season and enjoy their stunning flowers for even longer.
One way to prolong the blooming season is by deadheading your dahlias regularly. Deadheading involves removing spent flowers to encourage the plant to produce more blooms. By removing the fading flowers, you prevent the plant from directing energy towards the production of seeds and instead redirect it towards the growth of new flowers.
To deadhead your dahlias, simply snip off the faded flowers just above a set of healthy leaves or buds. This will stimulate the growth of new blooms, ensuring a continuous display of color in your garden.
Another tip for extending the blooming season is to provide your dahlias with consistent moisture and nutrition. Regular watering and fertilizing will keep your dahlias healthy and encourage continuous flower production. However, be mindful not to overwater or over-fertilize, as this can have adverse effects on the plants.
Finally, consider planting early and late blooming varieties of dahlias. By selecting dahlias that bloom at different times, you can ensure that there is always a dahlia in full bloom throughout the season. This will create a visually stunning display and prolong the enjoyment of these beautiful flowers.
Dahlia Varieties for Different Garden Styles
Dahlias come in a wide array of colors, shapes, and sizes, making them suitable for various garden styles. Whether you prefer a formal and structured garden or a relaxed and cottage-style landscape, there is a dahlia variety that will complement your vision.
For a formal garden, consider growing dinnerplate dahlias. These dahlias produce large, showy blooms that can reach up to 10 inches in diameter. Their symmetrical shape and vibrant colors make them a focal point in any garden. Pair them with well-manicured hedges or neatly trimmed borders for a sophisticated and elegant look.
If you prefer a more relaxed and cottage-style garden, opt for dahlia varieties with a more informal and natural appearance. Pompon dahlias, with their perfectly rounded and petite blooms, add a touch of whimsy and charm to any garden. Their smaller size makes them ideal for mixed borders or container gardens.
For a dramatic and exotic garden, consider growing cactus dahlias. These dahlias feature spiky petals that curve backward, creating a unique and eye-catching display. Their vibrant colors and intricate petal arrangement make them a striking addition to any garden.
No matter your garden style, there is a dahlia variety that will enhance its beauty and add a touch of magic.
Enjoying Dahlias in Floral Arrangements
Dahlias are not just meant for the garden; they also make stunning additions to floral arrangements. Their vibrant colors and unique shapes add depth and interest to any bouquet or centerpiece.
When cutting dahlias for floral arrangements, choose blooms that are fully open but not overly mature. Cut the stems early in the morning when the flowers are at their freshest. Use sharp, clean pruners to make a clean cut at a 45-degree angle, ensuring that the stems can easily take up water.
Once cut, immediately place the stems in a bucket of water to prevent wilting. Remove any foliage that will be below the waterline to prevent bacterial growth. To prolong the life of your dahlias, add floral preservative to the water, which will nourish the flowers and prevent the growth of bacteria.
When arranging dahlias, consider their size and color. Use larger dahlias as focal points in your arrangement, and mix them with smaller blooms and foliage for a balanced look. Experiment with different color combinations to create a visually stunning display.
Dahlia Photography Tips
Capturing the beauty of dahlias through photography can be a rewarding experience. Their vibrant colors and intricate details make them ideal subjects for close-up shots and macro photography.
When photographing dahlias, consider the lighting conditions. Soft, diffused light, such as early morning or late afternoon sunlight, can bring out the best in these flowers. Avoid harsh midday sun, as it can cast unflattering shadows and wash out the colors.
Experiment with different angles and perspectives to capture the unique features of each dahlia. Get up close to capture the intricate details of the petals or step back for a wider shot that showcases the entire plant. Don't be afraid to get creative and try different compositions to create visually striking images.
If you're shooting in low light conditions or want to capture a close-up shot with a shallow depth of field, consider using a tripod to ensure sharpness and stability. This will help prevent camera shake and allow you to capture the intricate details of the dahlias.
ALSO READ:
Dahlia Pinnata: The Ultimate Showstopper in Your Garden
Top 10 Ferns Trees You Should Consider Adding to Your Garden
The Complete Guide to Growing and Caring for Victoria Plum Trees
Cherry Blossom Festival: Exploring the Enchanting Blooming Beauty
CONCLUSION
In conclusion, our journey through the colorful world of dahlias has been nothing short of enchanting. These stunning flowers have captivated our hearts and imaginations, leaving us with a deep appreciation for their beauty, versatility, and resilience.
As we've delved into the various aspects of growing, caring for, and admiring dahlias, we've uncovered the secrets to cultivating these blooms into magnificent wonders. From the joy of selecting different dahlia varieties to the careful considerations of finding the perfect location and preparing the soil, we've learned that a successful dahlia garden requires both patience and passion.
Through watering, fertilizing, pruning, and staking, we've witnessed these flowers flourish, reaching their full potential and displaying their elegant forms. We've also learned to protect our precious dahlias from common pests and diseases, ensuring their longevity and vitality.
But the fascination with dahlias doesn't stop at their garden beauty. We've explored how to bring the enchantment indoors, creating stunning floral arrangements that brighten any space and lift our spirits. And for those with a penchant for photography, we've discovered how to capture the essence of dahlias' splendor through the lens, freezing time and preserving their fleeting beauty.
Moreover, we've become part of a vibrant community of dahlia enthusiasts, joining in festivals and events to celebrate these exquisite blooms and share our passion with like-minded individuals.
As we bid farewell to this ultimate guide, our hearts are filled with gratitude for the incredible journey we've experienced together. We have unlocked the secrets, tapped into the magic, and witnessed the wonder of dahlias in all their glory.
Let us carry this newfound knowledge and appreciation with us, embracing the beauty of dahlias in our own gardens and beyond. May these delightful flowers continue to inspire us, filling our lives with colors and joy, reminding us of the boundless beauty that nature offers.
PLEASE SHARE TO EVERYONE!!!!!!!!