Are you looking to create a peaceful and enchanting oasis in your garden? Look no further than lavender trees! With their beautiful flowers, soothing fragrance, and myriad of uses, lavender trees can truly transform any outdoor space into a serene retreat. In this article, we will explore the various tips and tricks you need to know to successfully incorporate lavender trees into your garden. From choosing the right varieties and planting techniques to maintenance and creative design ideas, we will guide you through every step of the process. Whether you have a sprawling backyard or a cozy balcony, lavender trees can add a touch of elegance and tranquility to any space. So, if you're ready to embark on a journey to create your own lavender-filled haven, keep reading for expert advice and inspiration. Get ready to enjoy the soothing scent and stunning beauty of lavender trees that will turn your garden into a sanctuary of relaxation and bliss.
Benefits of Lavender Trees in a Garden
Lavender trees offer a host of benefits that make them a perfect addition to any garden. Firstly, their beautiful flowers, ranging in hues from pale lilac to deep purple, add a pop of color and visual interest to any landscape. The delicate blooms also attract bees, butterflies, and other pollinators, making your garden a haven for wildlife.
But it's not just the visual appeal that makes lavender trees special. They are also known for their soothing fragrance that can instantly transport you to a state of calm and tranquility. The scent of lavender has been scientifically proven to reduce stress and anxiety, making it a perfect addition to any outdoor space where you can unwind and relax.
Furthermore, lavender trees are incredibly versatile when it comes to their uses. The flowers can be harvested and dried to create potpourri, sachets, or even essential oils. The dried lavender can also be used in culinary applications, adding a subtle floral flavor to dishes and beverages. With all these benefits, it's no wonder that lavender trees are highly sought after by garden enthusiasts around the world.
Choosing the Right Lavender Tree Varieties
When it comes to choosing the right lavender tree varieties for your garden, there are a few factors to consider. Firstly, you need to determine the climate and growing conditions in your area. Lavender trees thrive in sunny locations with well-drained soil, so make sure your garden meets these requirements.
Next, consider the size and shape of the lavender tree. Some varieties can grow quite tall and wide, while others are more compact. Take into account the available space in your garden and choose a variety that fits well with the overall design.
Additionally, think about the type of lavender tree that suits your aesthetic preferences. There are various species and cultivars, each with its own unique characteristics. From the classic English lavender (Lavandula angustifolia) to the show-stopping French lavender (Lavandula dentata), there is a wide range of options to choose from.
Research the different varieties and read reviews from other gardeners to get an idea of their growth habits, bloom times, and overall performance. By selecting the right lavender tree varieties, you can ensure a successful and visually stunning garden.
Planting and Caring for Lavender Trees
Once you have chosen the perfect lavender tree varieties for your garden, it's time to plant and care for them to ensure their healthy growth. Start by preparing the soil in the selected planting area. Lavender trees prefer well-drained soil, so amend heavy clay soils with sand or organic matter to improve drainage.
When planting lavender trees, make sure to space them adequately to allow for proper air circulation and growth. Follow the instructions provided with the plants for specific spacing recommendations. Dig a hole slightly larger than the root ball, place the lavender tree in the hole, and backfill with soil, gently firming it around the roots.
Water the newly planted lavender trees thoroughly and continue to water regularly until they are established. Lavender trees are drought-tolerant once established, so avoid overwatering, as this can lead to root rot.
In terms of maintenance, lavender trees are relatively low-maintenance plants. They require minimal pruning, usually in late winter or early spring, to maintain their shape and promote new growth. Regularly remove any dead or damaged branches to keep the tree healthy.
To ensure optimal growth and bloom, consider fertilizing your lavender trees once a year with a slow-release fertilizer formulated for woody plants. Avoid using high-nitrogen fertilizers, as this can result in excessive foliage growth at the expense of flowers.
Pruning and Shaping Lavender Trees
Pruning is an essential aspect of lavender tree care. It not only helps maintain the desired shape and size but also promotes healthy growth and abundant blooms. Pruning lavender trees is best done in late winter or early spring, before new growth begins.
Start by removing any dead or damaged branches, as well as any growth that appears weak or overcrowded. This will improve air circulation and prevent the spread of diseases. Next, trim back the remaining branches to promote bushier growth and fuller blooms. Be careful not to cut into the woody stems, as this can inhibit new growth.
When shaping lavender trees, it's important to maintain a natural and balanced form. Avoid creating overly formal or geometric shapes, as this can detract from the tree's natural beauty. Instead, aim for a slightly rounded or mounded shape that mimics the tree's growth habit in the wild.
Remember to sterilize your pruning tools before and after each use to prevent the spread of diseases. Use a solution of one part bleach to nine parts water or rubbing alcohol to clean the blades. This simple step can help keep your lavender trees healthy and disease-free.
Using Lavender Trees for Landscaping and Design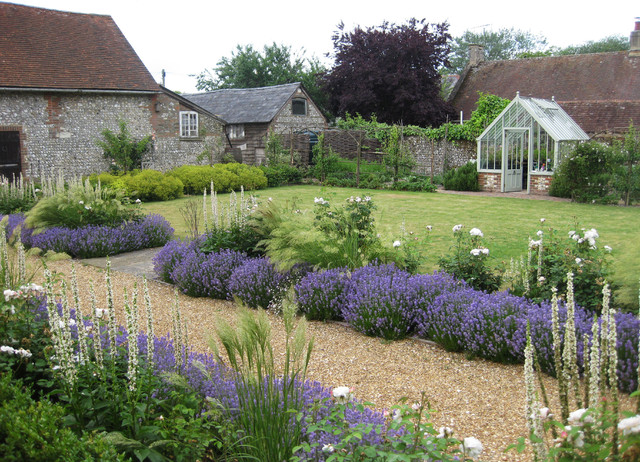 Lavender trees are not only beautiful on their own but also make stunning focal points in garden landscapes. Their elegant form, vibrant flowers, and soothing fragrance can enhance any design style, from formal to cottage garden aesthetics.
Consider planting lavender trees along pathways or near seating areas to fully enjoy their aromatic qualities. Their scent will waft through the air as you walk by or sit nearby, creating a truly immersive experience. You can also use lavender trees to create borders or hedges, adding structure and definition to your garden.
For a more whimsical and romantic look, try mixing lavender trees with other flowering plants and ornamental grasses. The delicate blooms of lavender trees pair beautifully with roses, salvias, and catmints, creating a soft and dreamy color palette. Ornamental grasses such as feather reed grass or fountain grass add movement and texture to the composition.
To create visual interest, vary the height and placement of lavender trees in your garden. Place taller varieties at the back or center of flower beds and shorter varieties at the front or edges. This layering effect will add depth and dimension to your garden design.
Complementary Plants and Flowers for a Lavender Tree Garden
To create a harmonious and visually appealing lavender tree garden, consider incorporating complementary plants and flowers into the design. Choose plants that share similar growing requirements and colors that complement the lavender blooms.
One excellent choice is the rosemary plant, which not only thrives in similar conditions but also shares a similar fragrance profile with lavender. The soft blue flowers of rosemary beautifully complement the purple hues of lavender, creating a delightful color combination.
Other suitable companion plants for lavender trees include salvias, catmints, and verbena. These plants offer a wide range of flower colors, from vibrant pinks and purples to soft whites and blues, which can be used to create contrast and interest in your garden.
When selecting companion plants, also consider their growth habits and overall height. Choose plants that will not overshadow or outcompete the lavender trees. Aim for a balanced and harmonious composition that allows each plant to shine while complementing the others.
Harvesting and Using Lavender for Culinary and Aromatic Purposes
One of the great pleasures of having lavender trees in your garden is the ability to harvest and use the flowers for culinary and aromatic purposes. The fragrant blooms can be dried and used in a variety of ways to add flavor and scent to your everyday life.
To harvest lavender flowers, wait until the buds have fully opened but are not yet fully faded. This is when the essential oils are at their peak, resulting in the most flavorful and aromatic blooms. Cut the flower stems just above the foliage using sharp pruning shears.
Once harvested, you can air-dry the lavender flowers by tying small bunches together and hanging them upside down in a cool, dark place. Alternatively, you can use a dehydrator or an oven set to low heat to speed up the drying process.
Dried lavender flowers can be used in a range of culinary applications. Add them to baked goods, such as cookies or cakes, for a subtle floral flavor. Infuse the flowers in sugar or salt to create unique seasoning blends. Brew them into tea or use them to flavor homemade ice cream or sorbet.
In addition to culinary uses, dried lavender flowers can be used to create homemade potpourri, sachets, or scented candles. Place them in small fabric bags and tuck them into drawers or closets for a fresh and soothing scent. You can also make your own lavender essential oil by infusing the dried flowers in a carrier oil, such as almond or jojoba oil.
Common Issues and Troubleshooting with Lavender Trees
While lavender trees are generally easy to grow and maintain, they can occasionally encounter some issues. Understanding and addressing these problems promptly can help ensure the health and vitality of your lavender trees.
One common issue is root rot, which occurs when the soil becomes overly saturated and does not drain properly. To prevent root rot, make sure your lavender trees are planted in well-drained soil and avoid overwatering. If you notice signs of root rot, such as wilted or yellowing leaves, reduce watering and improve drainage around the roots.
Another problem to watch out for is powdery mildew, a fungal disease that can affect lavender trees. Powdery mildew appears as a white, powdery coating on the leaves and stems. To prevent this disease, ensure proper air circulation around the plants by spacing them adequately and avoiding overcrowding. If powdery mildew does appear, treat it with an appropriate fungicide or a homemade solution of water and baking soda.
Pests such as aphids, spider mites, and whiteflies can also attack lavender trees. Regularly inspect the leaves and stems for signs of infestation, such as distorted growth or sticky residue. If pests are present, use insecticidal soap or neem oil to control the infestation. Alternatively, you can encourage natural predators, such as ladybugs or lacewings, to keep pest populations in check.
By being vigilant and addressing these issues promptly, you can prevent them from becoming major problems and ensure the continued health and beauty of your lavender trees.
Creating a Serene Oasis with Lavender Trees
With the right selection, planting, and care, lavender trees can help you create a serene oasis right in your own garden. Imagine stepping outside and being greeted by the calming scent of lavender, surrounded by vibrant blooms and lush foliage. Whether you have a sprawling backyard or a cozy balcony, lavender trees can transform any space into a sanctuary of relaxation and bliss.
To fully enjoy the calming effects of lavender trees, consider creating a designated relaxation area in your garden. Set up a comfortable seating area surrounded by lavender trees, and add soft lighting for evening ambiance. This will become your personal sanctuary where you can unwind, read a book, or simply enjoy the beauty of your lavender-filled oasis.
Embrace the sensory experience by incorporating other elements that promote relaxation and tranquility. Install a water feature, such as a small fountain or a bubbling rock, to create soothing sounds and mask any background noise. Add wind chimes or hanging lanterns for visual interest and gentle movement.
To enhance the overall ambiance, consider using natural materials and soft colors in your garden design. Use stone or wood for pathways and seating areas, and opt for muted tones such as pale blues, grays, and greens for furniture and accessories. This will create a harmonious and calming environment that complements the beauty of your lavender trees.
Conclusion
Incorporating lavender trees into your garden can truly transform it into a serene oasis. From their stunning flowers and soothing fragrance to their myriad of uses, lavender trees offer a wealth of benefits that make them a must-have for any garden enthusiast. By choosing the right varieties, planting and caring for them properly, and using them in creative landscaping and design, you can create a garden that is not only visually stunning but also promotes relaxation and tranquility.
So, whether you have a sprawling backyard or a cozy balcony, don't hesitate to embark on the journey of creating your own lavender-filled haven. Follow the tips and tricks outlined in this article, and soon you'll be enjoying the soothing scent and stunning beauty of lavender trees that will turn your garden into a sanctuary of relaxation and bliss. Get ready to immerse yourself in the calming world of lavender and create a garden that truly reflects your personality and brings you joy.
ALSO READ:
Best 10 Evergreen plants for chimney pots
Unraveling the Enchanting Secrets of Plumeria: A Guide to Growing and Caring for These Exotic Beauties
The Ultimate Guide to Growing and Caring for Hydrangeas: Expert Tips and Tricks
7 Best Tips and Tricks to Care Senetti Deep Blue (2023)
FAQS
1. What are lavender trees, and how do they differ from regular lavender plants?
Lavender trees are simply lavender plants (Lavandula species) that have been pruned and trained into a tree-like shape. They are essentially the same lavender plants you find in gardens but are cultivated to have a tree-like appearance with a single trunk and a rounded canopy.
2. Where is the best location to plant lavender trees in my garden?
Lavender trees thrive in full sunlight, so choose a spot in your garden that receives at least 6-8 hours of direct sunlight daily. Additionally, ensure the soil is well-draining, as lavender does not like to be sitting in waterlogged soil.
3. When is the best time to plant lavender trees?
The ideal time to plant lavender trees is in the spring or fall when the temperatures are milder, and the plants have a chance to establish their root systems before the extreme heat of summer or the frost of winter.
4. How should I prepare the soil for planting lavender trees?
Lavender trees prefer sandy or loamy soil with good drainage. Amend the soil with compost to improve its structure and fertility. Avoid using heavy soils or those that retain too much moisture, as this can lead to root rot.
5. How often should I water lavender trees?
Once established, lavender trees are relatively drought-tolerant. Water them deeply but infrequently, allowing the soil to dry out between waterings. During hot summer months, water them about once every two to three weeks.
6. How do I prune and shape lavender trees to maintain their tree-like form?
To maintain the tree shape, prune your lavender trees at least once a year after flowering. Trim back any leggy growth and shape the canopy to create a rounded, tree-like silhouette. Avoid cutting into the old wood, as lavender has difficulty regrowing from such cuts.
7. Can I use lavender trees in containers or pots?
Yes, you can grow lavender trees in containers or pots. Ensure the containers have drainage holes and use a well-draining potting mix. Remember to water the trees more frequently when they are in containers, as the soil tends to dry out faster.
8. How do I encourage more blooms on my lavender trees?
To encourage more blooms, deadhead the spent flowers regularly. This involves removing the faded flowers to prevent the plant from going to seed. It redirects energy back into the plant, promoting more flower production.
9. Are lavender trees prone to any pests or diseases?
Lavender trees are generally resilient to pests and diseases, especially if they are grown in well-draining soil and receive plenty of sunlight. However, they can be susceptible to aphids, spider mites, and root rot if the soil remains too wet.
10. Can I use lavender flowers for anything, like crafting or cooking?
Absolutely! Lavender flowers have various uses beyond ornamental purposes. You can use them to make potpourri, sachets, herbal teas, or even as a culinary herb to add a delightful floral flavor to dishes and desserts.
Remember, creating a serene oasis with lavender trees requires patience and attention to their specific needs. With the right care and maintenance, your garden will be filled with the soothing aroma and beauty of these lovely lavender trees.