Are you a gardening enthusiast looking to add a touch of elegance to your backyard? Look no further than the Victoria Plum tree! Known for its stunning blossoms and delicious fruits, the Victoria Plum tree is a popular choice among gardeners of all levels. But growing and caring for these trees requires a bit of knowledge and expertise. That's where our complete guide comes in. In this comprehensive resource, we'll take you through every step of the process, from selecting the right variety of Victoria Plum tree to nurturing it to maturity. We'll cover everything from planting and pruning tips to pest control and disease prevention techniques. Whether you're a seasoned gardener or a beginner, this guide will equip you with all the information you need to successfully cultivate and care for Victoria Plum trees.
Benefits of growing Victoria plum trees
Victoria plum trees offer a myriad of benefits that make them a great addition to any garden. Firstly, their stunning blossoms add a touch of beauty and sophistication to your outdoor space. The delicate white flowers, which bloom in spring, create a breathtaking sight that is sure to impress. Additionally, Victoria plum trees are known for their high yield of delicious fruits. The plums, which ripen in late summer, are juicy and sweet, making them perfect for eating fresh, baking, or preserving. Furthermore, these trees are relatively low-maintenance compared to other fruit trees, making them a great choice for both experienced and novice gardeners. With their numerous benefits, it's no wonder Victoria plum trees are a popular choice among gardening enthusiasts.
Choosing the right location for your Victoria plum tree
Selecting the right location for your Victoria plum tree is crucial for its growth and productivity. These trees require full sun exposure to thrive, so choose a spot in your garden that receives at least six to eight hours of direct sunlight each day. Avoid planting them in shaded areas or near tall trees that might block the sun. Additionally, Victoria plum trees prefer well-draining soil that is rich in organic matter. Before planting, ensure the soil is loose and well-aerated. If the soil in your garden is heavy or clayey, consider adding compost or well-rotted manure to improve its texture and fertility. By choosing the right location and preparing the soil adequately, you'll provide your Victoria plum tree with the ideal conditions for healthy growth.
Planting and caring for Victoria plum trees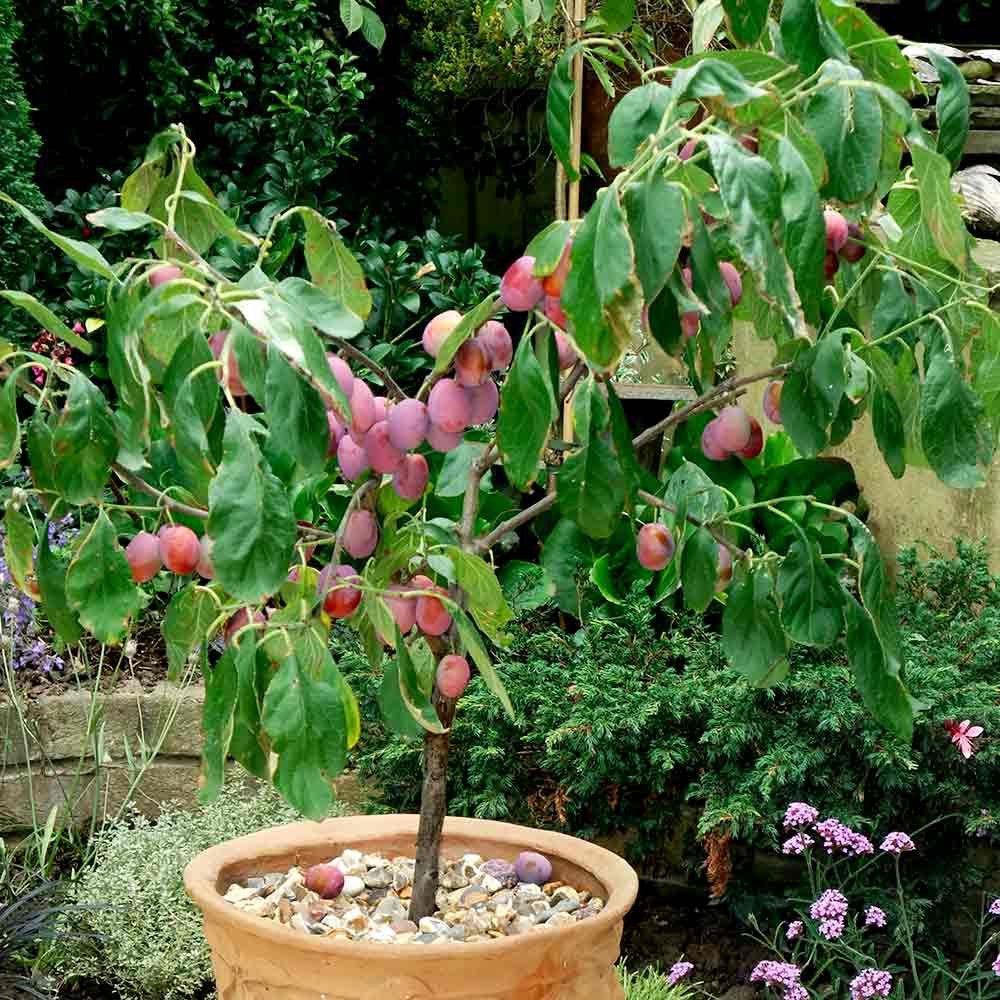 When it comes to planting Victoria plum trees, timing is crucial. The best time to plant these trees is in late winter or early spring when the soil is moist and workable. Before planting, soak the roots in water for a few hours to ensure they are well-hydrated. Dig a hole that is wide and deep enough to accommodate the root ball, ensuring there is enough space for the roots to spread out. Place the tree in the hole, making sure the bud union (the swollen area where the tree was grafted) is slightly above ground level. Backfill the hole with soil, firming it gently around the roots to eliminate air pockets. Finally, water the tree thoroughly to settle the soil and provide the newly planted tree with much-needed moisture.
Caring for your Victoria plum tree involves regular watering, especially during dry spells. Ensure the soil around the tree remains evenly moist but not waterlogged. Mulching around the base of the tree with organic materials, such as wood chips or compost, can help retain soil moisture and suppress weeds. Additionally, fertilizing your Victoria plum tree once a year in early spring can provide it with the necessary nutrients for healthy growth. Use a balanced fertilizer specifically formulated for fruit trees and follow the instructions on the packaging for proper application. Regularly inspect your tree for signs of pests or diseases and take appropriate measures to protect it from potential threats. With proper care and attention, your Victoria plum tree will flourish and reward you with a bountiful harvest.
Pruning techniques for Victoria plum trees
Pruning plays a crucial role in shaping the growth of your Victoria plum tree and maintaining its overall health. Pruning should be done during the dormant season, preferably in late winter or early spring before new growth begins. Start by removing any dead, damaged, or diseased branches. These branches not only detract from the tree's aesthetics but also pose a risk of spreading diseases. Next, remove any branches that are crossing or rubbing against each other, as they can create wounds and invite pests and diseases. Aim to maintain an open center or vase shape, allowing sunlight to reach all parts of the tree. This will promote better air circulation and help reduce the risk of fungal diseases. Remember to use clean, sharp pruning tools to make clean cuts and minimize the risk of infection. Prune your Victoria plum tree regularly to ensure its vitality and productivity.
Common pests and diseases affecting Victoria plum trees
Despite their resilience, Victoria plum trees are susceptible to various pests and diseases. One of the most common pests affecting these trees is the plum aphid. These tiny insects feed on the sap of the tree, causing stunted growth and distorted leaves. To control aphids, you can spray the tree with a solution of water and insecticidal soap or use natural predators such as ladybugs. Another common pest is the plum moth, whose larvae burrow into the fruit, causing it to rot. To prevent plum moth infestations, you can use pheromone traps or apply insecticides at the appropriate times. As for diseases, one of the most prevalent is brown rot, which causes fruit rot and can spread rapidly in wet and warm conditions. Pruning infected branches, removing fallen fruit, and applying fungicides can help prevent the spread of brown rot.
Harvesting and preserving Victoria plums
Harvesting Victoria plums at the right time is crucial to ensure optimal flavor and texture. The plums should be fully ripe but still firm when harvested. They should easily detach from the tree with a gentle twist. If the plums are too soft or easily bruised, they may be overripe and have a mushy texture. Once harvested, you can enjoy the plums fresh or use them in various culinary creations. Victoria plums are excellent for making jams, jellies, pies, and even wine. If you have a surplus of plums, consider preserving them by canning or freezing. Canned plums can be enjoyed throughout the year, while frozen plums can be used in smoothies or baked goods. Properly preserving your Victoria plums allows you to savor their delicious flavor even after the harvest season has ended.
Troubleshooting common issues with Victoria plum trees
Even with proper care, Victoria plum trees may encounter certain issues that need to be addressed. One common issue is lack of fruiting or poor fruit set. This can be caused by various factors, such as insufficient pollination, unfavorable weather conditions during flowering, or nutrient deficiencies. To improve fruit set, you can hand-pollinate the flowers by transferring pollen from one flower to another using a small brush. Additionally, applying a balanced fruit tree fertilizer can provide the tree with the necessary nutrients for proper fruit development. Another issue is fruit drop, where premature fruit fall occurs before they fully ripen. This can be caused by stress, such as drought or excessive heat, as well as certain diseases or pests. Ensuring your Victoria plum tree receives adequate water and proper care can help minimize fruit drop and improve overall fruit quality.
Tips for maximizing the yield of your Victoria plum tree
If you're looking to maximize the yield of your Victoria plum tree, there are a few tips and tricks you can follow. Firstly, ensure proper pollination by planting another variety of plum tree nearby to act as a pollinator. Cross-pollination between different plum varieties can significantly increase fruit set and yield. Additionally, thinning the fruits when they are still small can help improve their size and quality. This involves removing excess fruit, leaving only one or two plums per cluster. Thinning allows the remaining fruits to receive more nutrients and sunlight, resulting in larger and tastier plums. Regularly inspect your tree for signs of pests or diseases and take appropriate measures to prevent them from affecting the yield. By implementing these tips, you can enjoy a bountiful harvest of delicious Victoria plums.
ALSO READ:
Protea: A Floral Marvel with Endless Varieties and Stunning Colors
How to Transform Your Garden with Lavender Trees: Tips and Tricks for a Serene Oasis
A Complete Guide to Pruning Old Woody Roses in the UK: Expert Tips and Techniques
Unraveling the Enchanting Secrets of Plumeria: A Guide to Growing and Caring for These Exotic Beauties
How to Transform Your Garden with Lavender Trees: Tips and Tricks for a Serene Oasis
Conclusion and final thoughts
Growing and caring for Victoria plum trees can be a rewarding experience for any gardening enthusiast. These beautiful trees not only add aesthetic appeal to your backyard but also provide you with a bountiful harvest of delicious plums. By selecting the right variety, choosing the ideal location, and providing proper care and maintenance, you can ensure the healthy growth and productivity of your Victoria plum tree. Regular pruning, pest control, and disease prevention are essential for maintaining the tree's vitality and maximizing its yield. Harvesting and preserving the plums allow you to enjoy their delectable flavor throughout the year. Remember to troubleshoot common issues and follow tips for maximizing yield to ensure the success of your Victoria plum tree. Happy gardening and may your Victoria plum tree flourish and bring joy for years to come!