Welcome to the world of Plumeria, where enchanting secrets await to be discovered! If you've ever marveled at the breathtaking beauty of these tropical flowers and wondered how to grow and care for them, you've come to the right place. In this comprehensive guide, we will embark on a journey together to unravel the mysteries of Plumeria cultivation. From understanding their exotic allure to mastering the art of nurturing them, we'll delve into the intricate details that make these blooms truly mesmerizing. Whether you're a seasoned gardener or a passionate plant enthusiast, this blog will provide you with expert insights, practical tips, and a deeper appreciation for these magnificent wonders of nature. So, get ready to dive into the world of Plumeria as we uncover its secrets and learn how to create your very own paradise of these alluring and captivating flowers. Let's get started!
Choosing the Right Location and Sunlight for Your Plumeria:
Finding the perfect spot for your Plumeria is crucial to its overall health and growth. These tropical beauties thrive in warm, sunny environments, so choose a location that receives at least 6-8 hours of direct sunlight daily. Ensure the area has good drainage to prevent waterlogged soil, as Plumeria dislikes sitting in standing water. If you live in a colder climate, consider planting your Plumeria in a container that can be moved indoors during winter or opt for cold-hardy varieties. By providing the ideal location and sunlight, you'll lay the foundation for a flourishing and vibrant Plumeria display.
Understanding the Different Plumeria Varieties and Colors: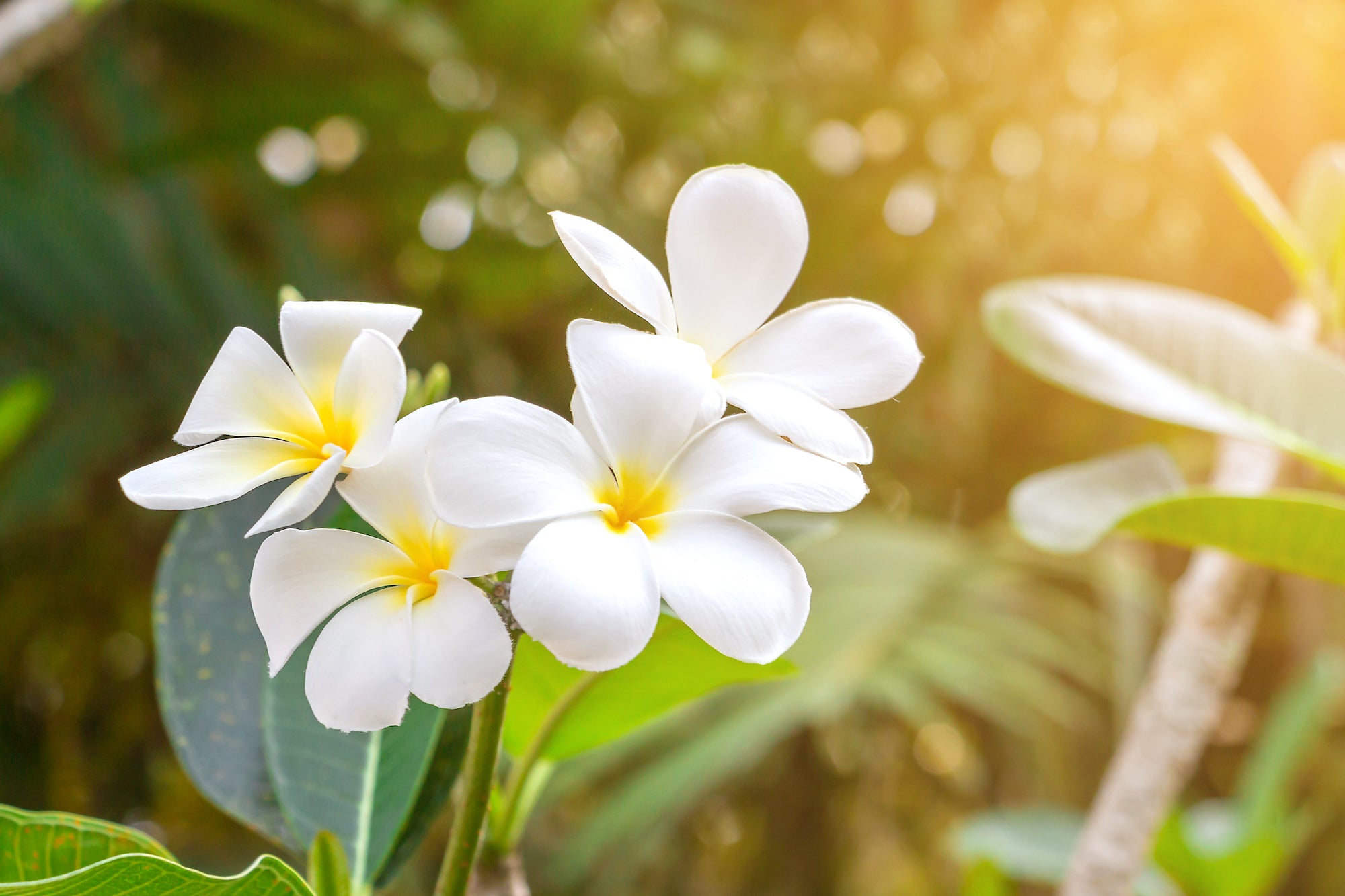 Plumeria is a diverse genus with an astonishing array of varieties and colors to explore. From the classic white and yellow blooms to the more exotic shades of pink, red, and even multi-colored hybrids, there's a Plumeria for every taste. Each variety boasts unique characteristics, such as the size and shape of the flowers, as well as the fragrance they emit. Understanding the distinctions between various Plumeria cultivars will not only help you curate a captivating garden but also deepen your appreciation for the remarkable beauty and biodiversity within this enchanting flower family.
Essential Steps to Propagating Plumeria: From Cuttings to Blooms:
Propagating Plumeria can be a rewarding experience for plant enthusiasts and gardeners alike. One of the most common and successful methods is through cuttings. By carefully selecting healthy stems, allowing them to dry and callus, and then planting them in well-draining soil, you can encourage root growth and eventually witness the emergence of new blooms. Patience and attention to detail are essential during this process, as each step plays a critical role in ensuring the successful propagation of your cherished Plumeria varieties.
Nurturing Your Plumeria: Watering, Feeding, and Pruning Tips:
Proper nurturing is key to maintaining the health and vitality of your Plumeria. Knowing when and how to water, as well as providing the right nutrients, will promote robust growth and abundant flowering. Additionally, regular pruning helps shape the plant, encourages branching, and removes dead or diseased parts, all of which contribute to a more visually appealing and thriving Plumeria. By following these nurturing tips, you can create an environment in which your Plumeria thrives, becoming a stunning centerpiece in your garden.
Guarding Against Pests and Diseases: A Healthy Plumeria's Defense:
Just like any plant, Plumeria is susceptible to pests and diseases that can hinder its growth and beauty. Recognizing common issues such as aphids, scale insects, or fungal infections, and taking preventive measures can help keep your Plumeria healthy and pest-free. Implementing organic solutions and maintaining good plant hygiene are essential steps in safeguarding your beloved Plumeria and preserving its enchanting allure.
Preserving the Captivating Fragrance: Harvesting and Storing Plumeria Blooms:
The captivating fragrance of Plumeria is one of its most alluring features. Learning how to harvest and preserve these delightful blooms ensures you can enjoy their scent even after they've been cut. Properly drying and storing the flowers allows you to use them in various ways, from making fragrant leis to infusing oils or creating potpourri. Understanding the art of preserving Plumeria blooms enables you to bask in their aromatic charm throughout the year.
Winter Care and Protection: Keeping Your Plumeria Safe and Thriving:
As winter approaches, providing appropriate care and protection is vital for Plumeria survival in colder climates. Whether you choose to bring your potted Plumeria indoors or insulate outdoor plants, taking precautions against frost and low temperatures will prevent damage to these tropical beauties. With the right winter care, you can ensure your Plumeria stays healthy and ready to bloom gloriously when spring returns.
Plumeria Symbolism and Cultural Significance: A Fascinating Exploration:
Beyond their physical beauty, Plumeria holds deep cultural and symbolic meanings in various traditions and societies. Exploring the rich history and symbolism attached to these flowers can be a fascinating journey. From representing love and devotion to being associated with deities and ceremonies, Plumeria's significance spans across different cultures, making it a flower of profound spiritual and emotional value.
Creative Landscaping with Plumeria: Ideas for a Tropical Paradise:
Plumeria's stunning blooms and lush foliage make them a perfect addition to a tropical-themed landscape. Whether you have a large garden or a small balcony, incorporating Plumeria creatively can transform your outdoor space into a vibrant paradise. From creating a dedicated Plumeria garden to integrating them into existing landscape designs, the possibilities are endless. Discover innovative landscaping ideas that showcase the splendor of these exotic beauties in their full glory.
Troubleshooting Common Plumeria Issues: Tips for a Flourishing Garden:
Maintaining a thriving Plumeria garden comes with its challenges, but understanding and addressing common issues can lead to a more successful and rewarding gardening experience. From dealing with yellowing leaves to managing overwatering or underfeeding, being aware of potential problems and their solutions will help you keep your Plumeria garden healthy and flourishing throughout the growing season.
ALSO READ:
Peach Tree Pruning 101: How to Shape and Maintain Healthy Trees
Unlock the Secrets to Growing Healthy Olive Trees with Potting Techniques
The Ultimate Guide to Growing and Caring for a Potted Willow Tree
The Ultimate Guide to Growing and Caring for Hydrangeas: Expert Tips and Tricks
How often should I water my Plumeria?
Plumeria prefers a well-draining soil and should be watered thoroughly but infrequently. During active growth in the warm months, water every 7-10 days, allowing the soil to dry out between waterings. In cooler months or during dormancy, reduce watering frequency.
When is the best time to fertilize Plumeria?
Plumeria benefits from regular fertilization during its active growing season, typically from spring to early autumn. Use a balanced, low-nitrogen fertilizer with a higher phosphorus content to promote blooming.
How can I propagate Plumeria from cuttings?
To propagate Plumeria from cuttings, select healthy, mature stems, and allow them to callus for a few days. Plant the cuttings in well-draining soil, ensuring at least one node is below the soil level. Keep the soil lightly moist until new growth emerges.
What are some common pests and diseases that affect Plumeria?
Plumeria can be susceptible to pests such as aphids, mealybugs, and spider mites. Common diseases include fungal infections like black tip rot and rust. Regularly inspect your plants for signs of infestations and address them promptly.
How do I preserve the fragrance of Plumeria blooms?
To preserve the fragrance of Plumeria blooms, harvest the flowers early in the morning when the fragrance is at its strongest. Dry the flowers in a cool, dry, and shaded area and store them in airtight containers to maintain their scent.
Can Plumeria survive in colder climates?
Plumeria is a tropical plant and is sensitive to frost and freezing temperatures. If you live in a colder climate, consider planting your Plumeria in containers that can be brought indoors during winter or choose cold-hardy varieties.
What is the cultural significance of Plumeria in different regions?
Plumeria holds various cultural meanings and symbolism in different parts of the world. It is often associated with love, devotion, spirituality, and even used in religious ceremonies and rituals in certain cultures.
How can I incorporate Plumeria creatively into my garden or landscape?
Plumeria can be used as striking focal points in tropical-themed gardens or integrated into existing landscapes to add a touch of exotic beauty. Consider planting them in clusters, creating borders, or using them as standalone specimens for a captivating display.
What are some common issues faced by Plumeria growers and how can I address them?
Yellowing leaves, overwatering, underfeeding, and pest infestations are some common issues. Properly diagnose the problem, adjust watering and fertilizing practices, and treat pests promptly to ensure a flourishing Plumeria garden.
How do I protect my Plumeria during winter in colder climates?
Provide winter care by either moving potted Plumeria indoors to a sunny location or covering outdoor plants with frost blankets. Avoid watering during cold spells to prevent root damage, and ensure good airflow around the plants to minimize moisture buildup.